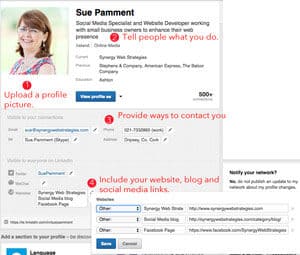 Upload a profile picture: The photo should be head and shoulders, well lit and in focus.
Tell people what you do: Use your keywords in the headline that you want to be found for. Use all 120 characters. Don't just put Accountant – write something like "Cork accountant helping business owners manage their taxes and create more profit."
Provide ways to contact you. List your phone number and email address. Make it easy for people to reach you.
Include your website, blog and social media links. LinkedIn provides a place for your Twitter handle. You can also add up to three urls. I recommend your website, blog and Facebook page or your other main social media channel.