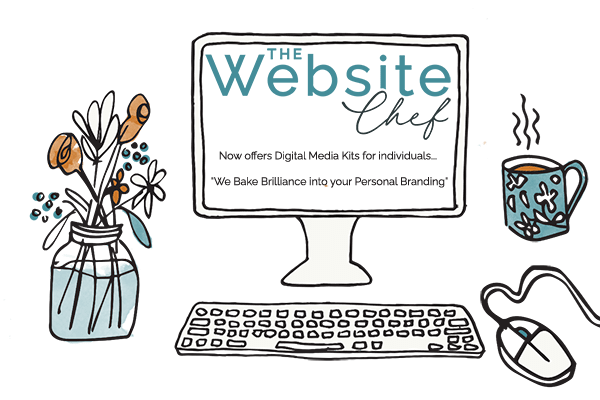 THE WEBSITE CHEF
Now offers Digital Media Kits for individuals…
"We Bake Brilliance into your Personal Branding"
Are you an author, public speaker or business owner who frequently appears on podcasts, tv, radio, or wins awards?
How many times do you respond to emails asking for your press photo and bio in connection with winning an award, appearing on a podcast or being invited to speak at an event? Then you scramble to put together hi-resolution profile pictures or images and bio.
Wouldn't it be easier if you could send these queries to a page on your website that has all that information readily available?
Introducing your Digital Media Kit!
What is a Digital Media Kit?
A digital media kit is what happens when your cv/resumé meets your LinkedIn profile and decide to live on your website.
At its most basic it is a professional, readily accessible collection of information that will help journalists or event planners on one handy web page. Consider it as a web page all about you which includes your bio, testimonials, contact details, links to social media, awards, and so on. See my list below of items to consider.
View my Digital Media Kit
What are the ingredients for my Digital Media Kit?
How much will my Digital Media Kit cost?
For Website Chef current clients
€249
plus VAT
Ready to Get Started?
Get your own Digital Media Kit
Let's make this easy for you. Eliminate repetitive hunts for headshots, bios, etc. Keep your Digital Media Kit up-to-date and save yourself time and effort.