Baking success into every website!
Looking for someone who will walk you through the website design process, making sure it's easy to understand, so everything runs smoothly?
What makes Sue, The Website Chef, unique?
For me, working with clients who share my values is incredibly important. I've been involved in designing websites since 2007 and, over the years, I've heard plenty of horror stories about web designers disappearing on their clients — leaving them stuck with a website they can't access or update. Building positive relationships with my clients is at the heart of everything I do. I'm passionate about creating engaging and user-friendly websites, and I really do love my job!
What ingredients are required to make a successful website?

Why The Website Chef?
I love cooking! When I'm not in my office creating unique websites, I'm in the kitchen creating delicious food. I came up with "The Website Chef" when I was chatting to a friend over coffee, and it just made perfect sense. Creating a website is very much like creating the perfect dish — you need quality ingredients and a loving touch for a successful outcome. I enjoy creating unique websites just as much as spending time cooking in the kitchen, and it's nice to get the right balance between both of my favourite pastimes.
Experience?
In 2007, I began working for a web designer, shortly after starting my virtual assistance (VA) business. I learned a huge amount during that time, so I began creating sites on my own. In 2012, I moved back to Ireland from Chicago and stopped doing the VA work, so that I could give my full attention to my website clients. Since then, my business has gone from strength to strength. Because I've always attracted like-minded business owners who share my values, I've had a relatively easy journey through self-employment. I'm incredibly passionate about helping all of my clients reach their goals, and freely offer advice on many different business topics.
How can you work with me?
Get in touch today to arrange our initial meeting. I can't wait to find out more about you and your business.
In the News
blarney & district Chamber of Commerce business awards 2023
Digital Media Award 2023
15th April 2023
Brand Blarney was selected as the winner of the Digital Media award at the Blarney Business Awards for their website including interactive heritage map! It was a double win for Sue Pamment as the chairperson of Brand Blarney, a voluntary group, and as the web designer who created the site.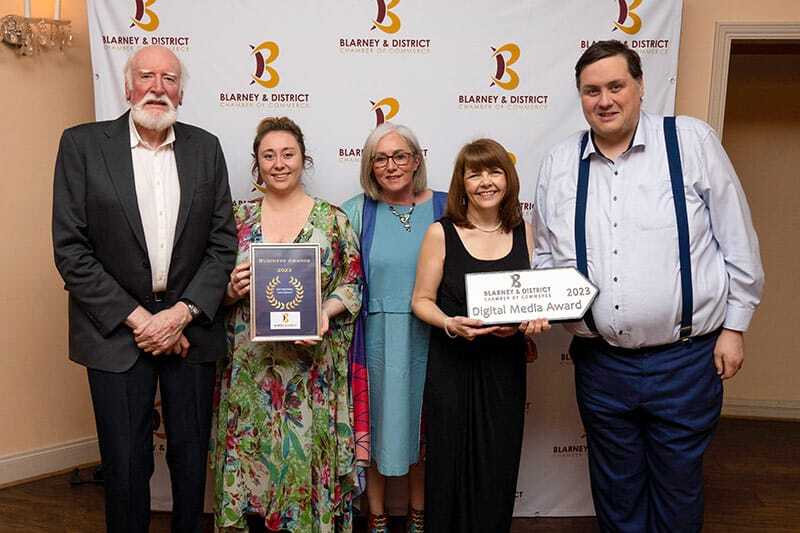 blarney & district Chamber of Commerce business awards 2021
Business & Entrepreneurship Award 2021
22nd April 2022
Sue Pamment is The Website Chef – a web designer who puts long-lasting client relationships at the heart of her business, perfectly combining all the ingredients needed for successful websites for start-ups and small businesses.
One look at the glowing testimonials is proof that Sue really does put her heart and soul into her work and loves the variety and challenge that each new website brings. Year on year her business evolves, and her websites are just premium quality.
Sue takes on the Blarney Chamber e-zine with the same pride and efficiency she gives all her work – and organizes the content and publication of this beautiful online magazine voluntarily on behalf of the Chamber. This promotes all the Chamber members and keeps us up to date on all things business in the area. Sue also does a lot of voluntary work in the local community and is presently Chairperson of Brand Blarney who work with Cork City Council to promote the local Clogheenmilcon Fen.